Smoking, simplified.
These bags are smell-proof!
Thanks to a waterproof zipper, carbon lining, and a velcro seal. 
Plus, interior pockets for organization. 
Vegan leather that easily wipes clean. 
Easily fits a pipe, grinder, lighter, papers, and more.
Detachable wrist strap included.
Designed in NY, Made in China. 
8in long x 6in tall x 2in deep
Customer Reviews
Write a Review
Ask a Question
01/07/2022
Alexander R.

United States
AMAZING
Absolutely love this stash bag. Great material and construction, very durable. Also very low key if you are traveling!
12/26/2021
Jackie

United States
******* Awesome
This bag was run over by my car and my glass pipe and glass holding jar were PERFECTLY FINE. Not only were my glass pieces fine, rocks left a few puncture holes in the bag and it still remains smell proof. ******* awesome bag. My friend has a Dime Bag and says it isn't even smell proof.
12/18/2021
Vayia

Cyprus
Loved it!
I needed a designated stash bag because my friends and I like to smoke at a local park and I got tired of constantly moving my things from one bag to another. Tbh I loved the lilac colour and wasn't so sure about being smell proof but I didn't really care. It has lots of space to fit your things in it (It fits my small body spray, rolling papers, lavender oil, grinder, tobacco, rose petals lavender, incense, cigarettes AND MY HOUSE KEYS). I once had to carry an already lit blunt inside for the night and the next day when i opened the bag I was pleasantly surprised (and impressed) to find out that the bag held NO ODOR AT ALL. Highly recommended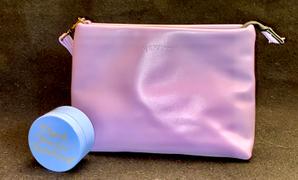 10/31/2021
Bepa

United States
Amazing!
Before getting this bag I was a bit skeptical about it being smell proof, but after using it for several months, I am amazed! I love the lilac color and the bag is spacious enough to fit the essentials into. I've been telling my friends about this item ever since I got it!
09/27/2021
Beverly

United States
Stylish and Effective
I love this stash bag! I have never had anything built to keep out smell but I can tell a huge difference. It can hold a good amount of of items as well. Would definitely recommend for those in the market for a smell proof bag.